Breakouts
---
BNC and TNC breakouts offer a broad selection of parts for every application.
Breakouts use 20 awg lead wire and have a 3" red center lead and a 9" black ground lead unless otherwise noted. For standard construction of Bipom Electronics connectors please refer to our product catalog in PDF format.
View the Product Data Sheet in PDF format for more information.
Female BNC | Male BNC | Female TNC
Female BNC Male (part number 9230)
---
1001XK - XK double gripper adapter
1001XM - XM micro hook adapter
1001 - X100W mini hook adapter
1001W2 - X100W2 mini hook adapter
1001XL1 - XL1 mini hook adapter
1001XL2 - XL2 mini hook adapter
1001XR - XR mini hook adapter
1001XH - XH macro hook adapter. 18 awg PVC insulated test lead wire
1001XHL - XHL macro hook adapter. 18 awg PVC insulated test lead wire
1002 - Stacking banana plug (p/n 9260) with heavy lead wire adapter. 18 awg PVC insulated test lead wire with 4" long ground and center leads
1003 - .080" stacking pin plug adapter with 4" long ground and center leads
1004- .080" pin plug adapter with 4" long ground and center leads:

1005 - standard banana plug adapter with 4" long ground and center leads:

1006 - standard stacking banana plug adapter with 4" long ground and center leads:
1006M - Miniature stacking banana plug (p/n 9261) adapter with 4" long ground and center leads:

1007-6 - #6 spade lugs adapter with 4" long ground and center leads:

1007-25 - .250" spade lugs adapter with 18 awg test lead wire, 4" long ground and center leads: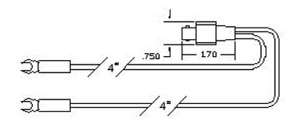 1008 - .250" square socket adapter with 4" long ground and center leads:

1009 - standard alligator clip adapter with 18 awg test lead wire, 4" long ground and center leads: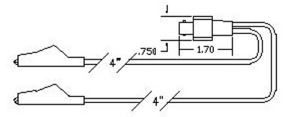 1009M - miniature alligator clip adapter with 4" long ground and center leads: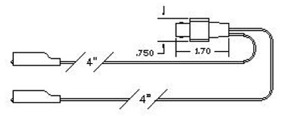 1011-F - adapter to lead only with 5" long 18 awg ground and center leads: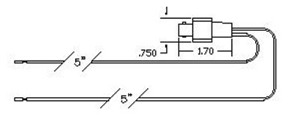 1015-F - adapter to lead only with 5" long ground and center leads: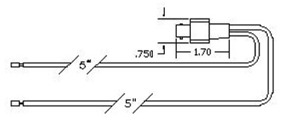 | Product Name | Price | Stock | Quantity |
| --- | --- | --- | --- |
Male BNC (part number 8901)
---
1010XK - XK double gripper adapter
1010XM - XM micro hook adapter
1010 - X100W mini hook adapter
1010W2 - X100W2 mini hook adapter
1010XL1 - XL1 mini hook adapter
1010XL2 - XL2 mini hook adapter
1010XR - XR mini hook adapter
1010XH - XH macro hook adapter. 18 awg PVC insulated test lead wire
1010XHL - XHL macro hook adapter. 18 awg PVC insulated wire
1012 - stacking banana plug (p/n 9260) with heavy lead wire adapter. 18 awg lead wire used for 4" long ground and center leads
1013 - .080" stacking pin plug (p/n 9204) adapter with 4" long ground and center leads
1014 - .080" pin plug (p/n 9201) adapter with 4" long ground and center leads
1016 - standard stacking banana plug (p/n 9203) with 4" long ground and center leads
1016M - Miniature stacking banana plug (p/n 9261) adapter with 4" long ground and center leads
1017-6 - #6 spade lugs adapter with 4" long ground and center leads
1017-25 - .250" spade lugs adapter with 4" long 18 awg ground and center leads
1018 -.250" square socket adapter with 4" long ground and center leads
9029 - standard alligator clip adapter with 4" long 18 awg ground and center leads
9029M - miniature alligator clip adapter with 4" long ground and center leads
1011-M - adapter to lead only with 5" long 18 awg ground and center leads
1015-M - adapter to lead only with 5" long ground and center leads
| Product Name | Price | Stock | Quantity |
| --- | --- | --- | --- |
Female TNC (part number 9317)
---
1301- X100W mini hook adapter
| Product Name | Price | Stock | Quantity |
| --- | --- | --- | --- |