Example Custom Peripheral Boards
---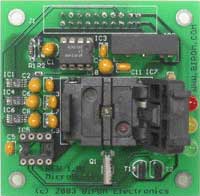 Device Tester
A device tester peripheral board that we developed for a large component distributor. This tester board plugs on top MINI-MAX/51-C2 and performs various tests and programming operations on the target IC device that is installed on the test socket. Test results are indicated my 3 LEDs:
RED for FAIL
GREEN for PASS
YELLOW for IN USE
MINI-MAX/51-C2 controls 3 DAC's to vary the voltages of the target device.
PROTO-1
---

PROTO-1 allows quickly building your custom circuits to plug on top of the MINI-MAX boards and other peripherals. PROTO-1 already has the expansion connector soldered.
Several prototyping boards can be stacked for custom circuit development. Using PROTO-1, analog inputs/outputs, temperature sensors, relays, displays and many other circuits can be added to the base microcontroller board for rapid project development.
Building Your Own
---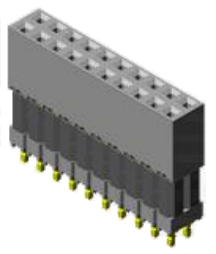 If you would like to design your own peripheral board for the MINI-MAX system, we provide the necessary dimensions for your convenience:
BiPOM Peripheral Board Dimensions
Information on the stacking 20-pin peripheral connector:
Part Number:
ESQ-110-34-T-D
Manufacturer:
SAMTEC