Industry and Customer Examples
---
BiPOM has thousands of customers in many different industries and activities, too numerous and diverse to completely list.
When computer chips/microcontrollers first became available, only a few types of businesses/organizations made use of them. Now, with their low cost and vast capability to open up creative applications, the microcontroller has become ubiquitous, although not always obvious, worldwide. Every business, organization or entity should know that a microcontroller will help them to be better.
Featured Customer: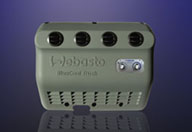 BiPOM takes a great deal of pride in working with our innovative and technology based customers, and the international company, Webasto is one of the very best. In 2005, their North American Engineering group asked us to support their development of the microcontroller based controls for a revolutionary truck sleeper cab cooling system. Our contribution was successful, as was the new total concept. The BlueCool Truck system provides overnight cooling for the truck bunk compartment without having to idle the engine, thus saving fuel and reducing emissions and operating costs. BlueCool was featured by CNN.com/technology .
The BlueCool Truck system has become a highly acclaimed success and BiPOM Electronics continues to support Webasto with production units of the Control Systems and ongoing development.
Click on the links below to learn more about the BlueCool Truck system:
BiPOM, your development team on call and your OEM production supplier.
---

Advanced Defense Technologies
Allied Signal Aerospace
ARINC
Army Research Lab
Astronics AES
Aviation Technology
Boeing
Bombardier

Department of Defense

Dynetics, Inc.
Eglin AFB

FlightSafety Canada Ltd.
General Dynamics AIS
Harris Corporation
JHU/Applied Physics Laboratory
Lockheed Martin
NASA Langley Research Center
Naval Air Warfare Center
Naval Surface Warfare Center
Northrop Grumman
Raytheon
Rockwell Collins
Sandia National Laboratories
---

Aramco
AKER
Aspen Technology
Baker Hughes
BP Oil Lima Refinery
Exterran

Ocean Drilling Program
Oceaneering International
Schlumberger
Smith International
Weatherford
---

BioControl Medical
Boys Town National Research Hospital
Carolina Medical
Central Food Technological Research Institute
Fisher & Paykel Healthcare Ltd.
Global Cardiac Monitors, LLC
Healthronics
Inst. of Orthopedic Research & Education
Laborie Medical Technologies
McKinley Medical
Medical Scientific Ltd.

Medrad
Methodist Hospital
National Institute of Health
Pearle Vision
Quantum Medical Imaging
Sandstone Medical
The Hospital for Special Surgery
Tyco Healthcare
USDA
West Park Health Care Center - AAC Clinic
World Food Programme
---

California Department of Transportation
City of San Jose, Dept. of Streets & Traffic
Department of Conservation, New Zealand
FBI

Multnomah County
New York City Transit
NIST
US Department of Interior
---

Bosch Corporation
C2MotorSports
Canadian Pacific
Daimler Chrysler
Ford Motor Company
Gentex Corporation

GM of Canada c/o Westburne Industries
Otis Transit Systems, Inc.
RENAULT S.A.S.
Toyota Technical Center, USA, Inc.

| | |
| --- | --- |
| Webasto | |
---

Xerox
Sirf Technology
Honeywell
SUN Microsystems
Infineon
Laser Technologies, Inc.
Panasonic AVC Networks
Seagate Technologies
Siemens
Spectra Physics
Telemetrics

SANYO
OSRAM
National Instruments
LSI Logic
Intel
Monster Cable
Motorola
Parker-Hannefin
SONY Electronics
Teledyne Electronics
Valco Electronics
---

IBM Research
Southwest Research Institute

Bedford Institute of Oceanography
---

American Amusement
Celebrity Pictures

Disney Cruise Lines
SONY-Wega