Test Leads & Patch Cords
---
Bipom Electronics offers a huge selection of standard Test Leads and Patch Cords that provide dependable, accurate connections in almost any situation. By combining flexible test lead wire and hypo-action hook connectors, alligator clips and probes with an extensive line of test connectors and adapters the result is a comprehensive array of leads and patch cords that fit your specific requirements.
Have you found the test connectors or hooks that you need but cannot find a test lead or patch cord that combines these parts with flexible test lead wire?
We have the capability to make hundreds of combinations that are not listed in our catalog as a standard part. We will even customize lengths on standard parts to better meet your specific application requirements. Everything you need, standard or custom, at affordable prices!
Test Leads
---
Expand the functionality of our test connectors by utilizing them in a test lead assembly. Most test connectors are offered with factory installed test leads or with pin adapters that connect to .025" square or .030" diameter socket patch cords. A broad range of leads are available standard to fit your specific needs, and we can provide custom leads made to your specifications. Fewer limitations mean more flexibility for you!

Micro Hook Test Leads (Pico, XM, XK)

Mini Hook Test Leads (X100W, XR, XL1)

Macro Hook Test Leads (XH, XHL)

Insulation Piercing Hook Leads (XJ, XJL, XEL)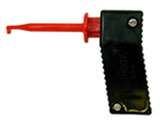 Pistol Grip Leads (XP, XPL)

Alligator Leads (Standard & Miniature)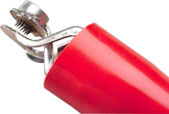 Insulation Piercing Alligator Leads (17-Needle & 47-Needle)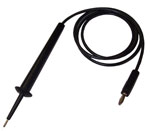 Probe Leads (Probes 30, 32, 33, 34, 40)
Patch Cords
---

.025" Square Socket (.635mm)

.030" Square Socket (.762mm)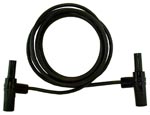 Patch Cords with Banana Plugs, Sockets, and Pin Plugs
Standard Lead Lengths: (click for chart)
6", 12", 18", 24", 36", 48", 60" and coil cord (expands to 60")
Standard Colors: (click for chart)
Black, brown, red, orange, yellow, green, blue, violet, gray and white.
Kilo-Color Information
For non-standard lengths, wire gauges, or interface options please contact factory. (Click for chart)