USB Type B Female Breakout Board

---

USB Type B Female Breakout Board
Part No.
Description
Price
Stock
BRKUB1F-R-DIN
USB B Female Breakout Board, R/A Connector, DIN Rail Mount
$

13

6

BRKUB1F-R-FT
USB B Female Breakout Board, R/A Connector, Feet
$

11

3
General Description
This breakout board brings all 4 pins of its USB Type B Female socket out to screw terminal blocks for easy connection and prototyping work. Each pin is also brought to solder pads (5 per line) at 0.1' spacing, allowing easy addition of standard pin headers.
These adapters are particularly useful for prototyping USB microcontroller circuits. Our experience so far shows that these adapters can be used with USB 2.0 High Speed signals without introducing any problems. However, please be aware that these adapters are not USB 2.0 High Speed certified.
This break out board is perfect for experimentation and prototype work, as well as for use in the educational laboratory. A breakout board is sometimes referred to as a 'transition module', 'terminal board', or 'interface module'.
For mounting on a panel, we suggest the rubber feet version (-FT), 1/4' nylon standoffs under the mounting holes, and #6 screws.
Note that these boards are NOT active USB devices that give you digital I/O pins. These are passive devices that simply provide an easy way to connect to the four USB signal wires.
DIN Rail Mount Version
These products are also available with DIN rail mounting clips for quick and convenient mounting where DIN rail is used. Product numbers ending with -DIN come with DIN clips already installed and ready to mount. The clips allow mounting on standard 35mm rail as well as 32mm rail.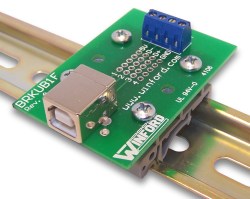 (BRKUB1F-R-DIN pictured - rail not included)
Features
---
USB Type B Female Socket
Screw terminal for each of the 4 lines, accomodates 16AWG to 26AWG
Solder pad connection space for all 4 lines
Supports addition of .1' pin headers
Approximate dimensions: 2.38' x 1.6'
Rubber feet or DIN rail mount